Costco Freeze-Dried Fruit Potentially Contaminated with Salmonella, Under Food Recall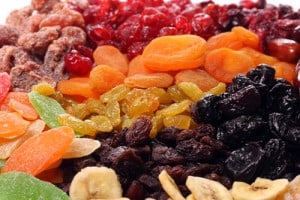 Oregon Freeze-Dry Inc, based in Albany, OR, has issued a food recall for Kirkland Signature dried fruits, which was sold exclusively through Costo Wholesale Stores, after reports that the fruit could be contaminated with salmonella.
The company said that it has received no reports of any consumers becoming ill due to salmonella poisoning, so the food recall is a precautionary measure.
Oregon Freeze-Dry's food recall covers 59,780 cases of Kirkland Signature Real Sliced Fruit. The food recall officially began on March 8th, after the company received reports that the dried fruit could potentially be contaminated with salmonella. Customers who may have purchased the product will be contacted by phone and US mail. Cases of the fruit will feature a sell-by date between Feb. 14, 2015 to March 11, 2015.
The dried fruit was distributed to the following states: Alabama, Arizona, California, Colorado, Connecticut, Delaware, Florida, Georgia, Hawaii, Illinois, Indiana, Iowa, Kansas, Kentucky, Maryland, Massachusetts, Michigan, Minnesota, Missouri, Nebraska, Nevada, New Hampshire, New Jersey, New Mexico, New York, North Carolina, North Dakota, Ohio, Pennsylvania, South Carolina, South Dakota, Tennessee, Utah, Vermont, Virginia, Wisconsin, and Puerto Rico.
Costco has also said that customers who purchased the fruit can return it to their local Costco store for a refund.
Salmonella is one of the most common food-borne illnesses, and in healthy adults can last between 4 and 7 days. Most cases clear up on their own without treatment, but salmonella infections can be serious or fatal in young children, elderly adults, or people with compromised immune systems.
Food Recall Notice May or May Not Be In Time to Stop Contagion
To protect yourself and your family, it's important to know what products, foods, and medications have been recalled because they are defective or unsafe. Federal agencies such as the FDA (Food and Drug Administration) and the CPSC (U.S. Consumer Product Safety Commission) frequently issue recalls for medical devices, drugs, and products that may be harmful to consumers. The USDA monitors food safety and potential contamination. However, these agencies act only after they hear reports of potential contamination, either from the manufacturer, or from consumers. By the time consumer reports of illness or injury make their way to these federal agencies, it may be too late to stop harm done with a product or food recall.
Every year, thousands of consumers sustain serious injuries from defective products and foods. A personal injury lawyer can help you with an injury you may receive. Many of these injuries could be avoided if the manufacturers or distributors of these products took additional steps to ensure consumer safety. Defective products that commonly cause injuries include medical devices, pharmaceutical products, and other defective products such as toys, cars, food, medication, and automotive parts.
The Strom Law Firm Protects Citizens Harmed by Delayed Food Recalls
The attorneys at the Strom Law Firm keep a close watch on prescription, product, vehicle, and food recalls in the US. We aim to protect our clients' health and safety, and hold manufacturers to the highest possible standard of safety. Product recalls are especially important because defective drugs, medical devices, food, and toys can seriously injure or even kill consumers. If you or a loved one have experienced severe, life-limiting side effects from a defective product, food, or drug, and believe that your pain stems from a product or food recall that came too late, you may be entitled to compensation. The Strom Law Firm can help. We offer free, confidential consultations to discuss the facts of your case, so contact us today.803.252.4800