Truck Accident Attorneys in Columbia, SC
When preventable accidents result in serious injury, victims can sustain tremendous losses. Victims often incur significant medical expenses and lose income due to not being able to work. In addition, people who are hurt in accidents often experience substantial physical and emotional pain and suffering. Fortunately, South Carolina laws allow victims to recover compensation for these and other losses that they may experience as a result of a preventable accident.
Our Columbia Truck Accident Lawyers at the Strom Law Firm are familiar with litigating South Carolina personal injury cases can often help victims recover substantially more compensation than they would be able to retain on their own, so it is highly advisable for anyone injured in an accident to discuss their options with an experienced Columbia Truck Accident Lawyer.
The National Highway Traffic Administration (NHTSA) reports that, in 2018,  there were 106,821 collisions in South Carolina involving a commercial trucking vehicle. Almost 4,500 of those were fatal collisions. Because of the size and weight of these vehicles, any type of negligent, reckless, or careless driving can have serious and devastating consequences. If you or a loved one was seriously injured in a truck accident, you need to have someone working on the case immediately. The Columbia auto accident lawyers at the Strom Law Firm can ensure your personal injury claim is timely initiated, preserved, and filed to ensure you receive the compensation you deserve.
How Do Trucking Accidents Usually Happen?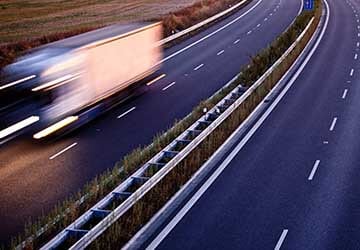 All of us have traveled the highways and roads throughout the Columbia area and are aware of the increasingly heavy traffic, particularly on major interstates like I-26, I-20, and even I-95. Eighteen wheelers, construction vehicles, farm vehicles, and other multi-axle and commercial vehicles often rush to stay on schedule and beat deadlines. They are heavy. They are fast. They are weighted down by the load. When they collide with a smaller vehicle, destruction and serious injuries can occur.
Truck drivers sometimes operate these large vehicles in a negligent or careless way. Sometimes, these drivers may be driving for long hours on the road leading to physical exhaustion and less attention to their driving at hand. Other times, truckers have used medications and drugs to help them stay awake. Some regular causes of truck crashes in Columbia and across Richland County include:
Exhaustion
Speeding or driving too fast for conditions
Reckless driving
Inexperience
Driving Under the Influence of drugs or alcohol (DUI)
Improper turning procedures
Failure to maintain lanes
Drivers carrying too much load
Some wrecks are caused by defective truck parts rather than a negligent driver. These could include problems with the brakes, tires, lights, faulty maintenance, etc. Faulty pre-trip inspections could be to blame. Sometimes, these defects could give rise to a claim for products liability against the manufacturer, distributor, or against the maintenance facility that performed repairs on the truck. Contacting an experienced Columbia truck accident lawyer to review the situation and determine the best course to follow can help you secure the compensation you deserve.
Common Types of Columbia Truck Accidents
As with any type of vehicle collision, there can be an array of different ways these accidents occur. They can range from fender benders to catastrophic accidents, with fatalities or permanent disabilities. Usually, Columbia truck accidents involve rear-end collisions, overturns as a result of taking a turn too sharply, failure to yield the right of way, illegal turns, or hydroplaning, multiple car pileups, chemical spills on the roadways, and failing to tie down the cargo securely.
Occasionally late night or early morning accidents can be caused when a vehicle is either not equipped with or does not use its high beams and fails to see a hazard in the roadway. If the trailer's haul is not loaded and secured appropriately, it can become dislodged from the trailer and careen into other cars on the road. Drivers on the other end of such a situation will find themselves in a serious, maybe even deadly situation.
Common Columbia Truck Accident Injuries
These 18 wheeler accidents are the culprit for many fatalities each year on the Columbia roadways. The weight and mass of a commercial truck is the reason there is such a crushing force in these collisions. If a person involved in a tractor-trailer collision does not lose their life, they will rarely walk away from the accident unscathed. The damage these types of collisions can cause include severe trauma, friction burns, or other severe injuries that are not always present in other types of car accidents. The most common truck wreck injuries that we have seen include:
Traumatic Brain Injuries
Significant blows to the head can cause head injuries known as traumatic brain injuries. Damage to the brain often results in lasting consequences requiring immediate diagnosis and subsequent treatment. Brain damage can lead to cognitive issues that may impact a person's cognitive activity, emotions, and many other areas of their life. Imagine waking up in a fog, but that fog would be every day for the rest of your life.  Brain damage can also be permanent where there is little to be done other than managing the symptoms with medication and physical therapy. Likely traumatic brain injuries seen in truck accidents involve concussions, coup-contrecoup, and brain contusions.
Back Injuries and Spinal Cord Damage
The size and weight of a tractor-trailer can come into play when there is an injury to someone's back. An impact on a person's back can cause damage to the spinal cord. The brain receives sensory information through the spinal cord. If it is damaged, these functions can be compromised. An accident where the back is injured often results in fractured vertebrae which wraps around the spinal cord, and can also result in injuries to the sensitive nerves in the spinal cord. As such, misalignment of the spine can damage the spinal cord due to pressure or tear. These injuries can cause conditions ranging from paralysis and issues with moving around to numbness and even incontinence.
Internal Organ Damage
Internal organs can often be damaged by the force of an accident with a semi-truck or tractor-trailer. Some of the damage to these organs include rupturing, tearing, and contusions, which can all turn out as severe injuries. The organs can lose function, or internal bleeding can lead to damages to the body's other organs.
Liability of Trucking Companies and Drivers
In South Carolina, the injured motorist can file a claim against a truck driver and their trucking company. You could potentially recover the costs of your medical expenses, lost wages, pain and suffering, loss of use, and loss of enjoyment of life. In more serious cases, you might recover compensation for future medical care.
Columbia Truck Accident FAQ
Large trucks are a common sight on Columbia's roadways. Unfortunately, this also means that an accident with a truck is a frequent risk for drivers and pedestrians alike. Truck accidents often cause substantial injuries, serious confusion, and a lot of questions. If you have specific questions about your accident, contact an experienced Columbia truck accident attorney as soon as you can following your accident as you can. Below, we answer some of the questions we hear most often about truck accidents in Columbia.
Who bears liability in a Columbia truck accident?

Unlike auto accidents involving only passenger vehicles, truck accidents can quickly become very complex. In many cases, more than one factor contributes to truck accidents. Your attorney may conduct a full investigation into the truck accident that includes an analysis of multiple factors that may have contributed to the accident, such as a look at the driver's logbook, the truck's load, and the operator's driving history. Most of the time, the truck driver bears primary liability for anything that happens while driving the truck. In many cases, however, other factors may contribute to the accident, changing the balance of liability.

Did the driver follow federal regulations regarding the number of hours spent behind the wheel each day? According to federal law, a truck driver can spend only 11 hours out of each 14-hour shift behind the wheel. After reaching those 11 hours or the end of the 14-hour shift, the driver must spend at least 10 hours off the road before resuming his trip. Sometimes, however, trucking companies pressure their drivers to exceed those federal mandates to meet deadlines or extend their drive time. If the company allows those behaviors,  the company may share liability for the accident, especially if it pressures drivers to push beyond the federal mandates.

Did a shifting load incident cause the accident? Shifting loads can cause serious problems for many truck drivers. On a flatbed truck, shifting cargo can fall from the truck, causing serious injury to others around the vehicle. In a traditional truck and cab, a shifting load can make the load more likely to tip over on a curve or in a dangerous situation, substantially increasing the risk of a truck rollover accident.

Often, trucking companies hire other individuals to handle cargo loading and unloading. An improperly-loaded vehicle that causes an accident may leave liability resting with the company that loaded the vehicle.

Did the company force the driver to drive in unsafe conditions? From icy or very wet roads to high winds, even experienced drivers may face weather conditions that make it unsafe to get behind the wheel. Likewise, illness and inebriation can both make it dangerous for drivers to operate a truck. If the company forces the driver to continue his route though it knows a truck cannot safely navigate in those conditions, the company may share liability for any accident caused by that negligence.

Did a mechanical failure cause or contribute to the accident? Trucks need careful, regular maintenance to keep them running as effectively as possible and reduce accident risk. Unfortunately, trucking companies do not always take take good care of their vehicles. They may ignore maintenance requests or put off routine maintenance to cut costs. These cuts, however, can prove incredibly dangerous, especially if the driver has reported a serious problem with the vehicle and has to take it out on the road anyway.

If the company does not take care of needed maintenance, the company may share liability for the accident. If the company does conduct maintenance, but a mechanical failure occurs due to mechanic error, the mechanic may share liability. If a mechanical failure in a new vehicle causes a trucking accident, the truck manufacturer may share liability for the accident. Likewise, if an error in a newly-installed part, including tires or brakes, causes a serious accident, the manufacturer of that part may share liability for the accident.

If you suffered serious injuries in a truck accident, an attorney can help provide you with a better picture of what factors contributed to your accident and how much compensation you should expect. Consult an experienced Columbia truck accident attorney to learn more.
How long does it take to receive compensation for a Columbia truck accident claim?

Before you can receive compensation for a truck accident claim, you may need to wait for the full investigation into that claim to take place. Often, your attorney may need to review substantial evidence to determine exactly who caused your accident. The trucking company and its insurance company may also want to go over evidence related to the accident before determining who bears liability for your injuries.

You should also expect several other things that may take time as you move forward with your truck accident claim. For example, you may need to consider:

How much do you need to recover from your injuries before your doctors can accurately assess your prognosis? Some injuries, including spinal cord injuries and traumatic brain injury, may leave victims with a long road to recovery. Your doctors may need you to walk down at least part of that road before they can predict your eventual recovery with any degree of accuracy.

In some cases, your lawyer may advise waiting six months or more to get a more accurate report from your doctors before choosing to file your truck accident injury claim. By waiting, you can give a more accurate assessment of your actual medical bills and how your injuries will impact your life after the accident.

How much do you need to negotiate before reaching an agreement with the insurance company? Sometimes, you can reach a quick agreement with the insurance company. The company may evaluate your injuries and the conditions that led to your accident and quickly come to the conclusion that you deserve the settlement you asked for.

More often, however, the insurance company will come back with a lower settlement offer than the amount you initially asked for. You may need to go through several rounds of negotiation before reaching an agreement that you feel reflects the compensation you deserve for your injuries. Your claim may take longer if you need to go to court to reach an agreement.
Will I have to go to court to settle my Columbia truck accident claim?

Most of the time, truck accident claims settle out of court. The trucking company or the insurance company that covers the trucking company acknowledges that going to court will increase the costs associated with the claim, so they will usually come to a settlement agreement if possible.

On the other hand, sometimes, you may have to go to court to settle your claim. Working with an attorney can help you prepare for that possibility and ensure that you have quality legal representation that will keep your best interests in mind throughout the process.

What happens if the Columbia truck driver's insurance company makes me a settlement offer?

Often, insurance companies do issue settlement offers soon after the accident. Usually, the company designs that settlement offer to sound very tempting The company may offer just enough to make you feel as though you will get what you deserve from your claim, or it might try to convince you that you cannot possibly get more for your claim, even with severe injuries that could prove a challenge for the rest of your life.

If you accept that offer without consulting an attorney and learning how much compensation you really deserve for your injuries, it could permanently impact your right to compensation following a trucking accident.

You do not have to accept a settlement offer on the spot. Instead, take the time to consider it carefully. Talk to an attorney to learn how much compensation you really deserve for the injuries you suffered in your trucking accident and how long you should expect it to take to get that compensation in hand. An attorney can help you make a decision based on your needs, not on what the trucking company has to say about the accident.
Do I really need an attorney to help handle a truck accident claim in Columbia?

You may have handled car accident claims on your own in the past, following a routine auto accident with no injuries. A truck accident claim, on the other hand, may proceed very differently, especially if you suffered serious injuries in the accident.

An attorney can help you move through that claim successfully and increase your odds of getting the compensation you really deserve for your injuries.

As you work closely with an attorney throughout your truck accident claim, that attorney will provide you with advice and information at every step in the process. You will have a better idea of how much compensation you deserve, how to communicate with the insurance company, and how to avoid making any statements that could minimize the compensation you receive for your injuries.

An attorney can also provide a more comprehensive investigation into exactly what caused your truck accident and represent you if you do need to go to court. Ultimately, many people find that working with an attorney significantly increases the compensation they can receive after their accidents.
How much will your Columbia truck accident attorneys cost me?

You may have significant medical bills to deal with in addition to lost wages due to your inability to work. Many people worry about the cost associated with hiring an attorney following a truck accident.

How will you pay for that attorney? Our truck accident attorneys understand that many victims do not have the funds on hand to hire an attorney. Fortunately, we make that easy.

When you connect with our truck accident attorneys, we start with a free consultation. That consultation will give you a chance to discuss how your accident occurred, what injuries you suffered, and how much compensation you might deserve for those injuries and the other losses associated with your accident.

Our Columbia truck accident attorneys will take cases on a contingency fee basis. If we accept your case on a contingent fee basis, you will not have to worry about coming up with payment for your attorney fees. Instead, you will pay for those services only as a percentage of any settlement or award you receive. If we don't secure money for you, you owe us nothing.
What is the difference between a Columbia commercial truck accident and an accident with a passenger vehicle?

Following a truck accident, you must consider these differences:

Big trucks often cause more severe injuries in accidents. Big trucks weigh significantly more than smaller passenger vehicles. They take longer to slow and longer to stop. They also need more space to maneuver before completing turns to avoid collisions. As a result, truck accidents often cause much more severe injuries than passenger vehicle accidents. Smaller passenger vehicles have little protection against the sheer mass of a big truck.
Truck drivers spend many hours on the road each day. Truck drivers can drive up to eleven hours out of each shift. That means a lot of hours spent on the road and, therefore, a lot of opportunities for accidents. While truck drivers receive some special training before they can drive a commercial-weight vehicle, they may end up out on the road before they have the experience needed to avoid accidents and navigate the challenges they face. Long hours on the road can also lead to increased driver fatigue and a higher risk of accidents.
Truck drivers often carry higher-value insurance policies. Truck drivers must carry insurance policies that provide higher-value coverage than the average passenger vehicle driver. Those policies can substantially increase the overall value of a truck accident claim. Your damages, however, will still depend on your injuries and the financial losses you faced due to your accident.
Contact One of Our Columbia Truck Accident Lawyers Today
Severe injuries and lifelong medical expenses resulting from a truck accident are serious issues for accident victims. Experienced truck wreck lawyers at the Strom Law Firm are here to talk to you and take a look at your case. We know what it takes to negotiate with insurance companies. Do not resolve your case for too little or too early. The attorneys at the Strom Law Firm are ready to litigate your case through depositions, hearings, and trial. Schedule your free consultation with a Columbia personal injury lawyer today at (803) 252-4800.
---
Client Review
Here's what Alma P. said about us on Google:
"Great law firm…awesome costumer service! Absolute pleasure to work with! I Would recommend this law firm to anyone."
Rating: 5/5 ⭐⭐⭐⭐⭐
Check out all of our Google reviews!