Memorial Day Weekend Sees Drunk Driver Flee DUI Checkpoint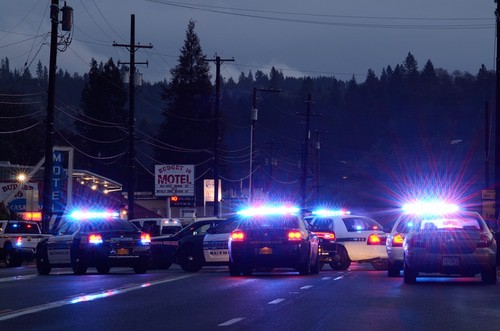 According to authorities, a drunk driver struck a highway patrolman after fleeing a Memorial Day DUI checkpoint.
The Charleston County Sheriff's Office reports that 26-year-old Elizah Robertson of Goose Creek, SC, tried to flee a traffic checkpoint that had been set up to near Myers Road. While fleeing the DUI and safety checkpoint, Robertson hit a highway patrolman with his car.
Authorities say that Robertson then fled the scene, headed toward Highway 176. He then struck a white Cadillac that was stopped at the DUI checkpoint. After hitting a second car, the drunk driver continued to evade troopers, collided with a Chevy Pickup truck that was attempting to make a U-turn near Branchwood Drive, then drove off the road into a wooded area, causing a minor fire.
Police arrested Robertson for assault, as well as driving under the influence (DUI).
Drunk Driving Accidents and DUI Charges Can Be Devastating
A felony driving under the influence charge, as related to the serious harm or death of another is the most devastating consequence of a drunk driving accident, and can cause lasting damage for all parties and families involved.
Strom Law Firm is committed to managing the legal burdens of a felony-related drunk driving accident to the highest letter of the law, so that clients and their families can focus on coping with the tragedy itself.
South Carolina DUI Felony Law
A person will be charged with a felony for driving under the influence of alcohol, drugs, or both, if while operating the vehicle under the influence, the person causes "great bodily injury" or death to a person other than himself including a passenger, pedestrian, another driver.
Great bodily injury is defined by the state of South Carolina as bodily injury, which creates a substantial risk of death or which causes serious or permanent disfigurement or protracted loss or impairment of the function of any bodily member or organ.
Additionally, if the injured person dies from related complications (such as a coma) within three years of the DUI-related injury, the driver may be implicated in the death.
Upon conviction of a felony DUI by jury, the accused faces a minimum mandatory prison sentence and fine.
Penalties for Great Bodily Injury
A felony DUI conviction for causing great bodily injury includes a mandatory minimum of 30 days to a maximum of 15 years imprisonment, plus a mandatory fine of at least $5,000, not to exceed $10,100. Also, the DMV must suspend the convicted person's driver's license for the term of imprisonment plus three years.
Penalties for Causing Death While Driving Under the Influence
A DUI conviction that includes a felony conviction for causing the death of another includes a mandatory minimum sentence of at least 1 year in prison with a maximum 25 years imprisonment, and a minimum mandatory fine of not less than $10,100 nor more than $25,100. Additionally, the convicted person's driver's license is suspensed for the term of imprisonment plus five years.
Other Felony Implications
A part of the mandatory sentences required to be imposed under the felony DUI law must not be suspended, and probation must not be granted for any portion.
Felony sentences must be served in federal or state prison, not local jail.
Conviction under the statute of a DUI felony does not repeal involuntary manslaughter or reckless homicide statutes, if so charged.
The Strom Law Firm Can Help with DUI Charges
If you face DUI charges, whether it is your first charge, or felony DUI, you could feel alone and afraid. Just because you have received DUI charges does not automatically mean that you are guilty. The attorneys at the Strom Law Firm have helped people who face DUI charges since 1996. We offer free, confidential consultations so you can discuss the facts of your case with impunity. Contact us for help today. 803.252.4800.