8.7 Million Lb Food Recall Leads to Walmart and Other Retailers Removing Hamburger, Hot Dogs, Other Meats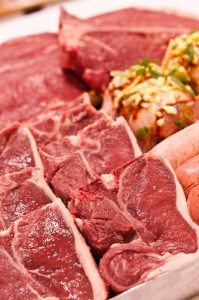 A food recall issued for millions of pounds of meat has led retailers to scramble to remove hamburger, hot dogs, and other meats from their shelves.
Rancho Feeding Corp, based in Petaluma, CA, has recalled almost 8.7 million pounds of meat because the USDA found the company processed "diseased and unsound animals," mostly in 2013. Rancho also carried out these activities without the full benefit of federal inspection.
The food recall has affected nearly 1,000 markets, spreading not just to pre-ground hamburger meat, but also to processed meats found in hot dogs and Hot Pockets.
Walmart, one of the largest retailers in the US, has already removed much of the potentially-tainted meat from their stores. "Walmart is committed to providing our customers with safe and affordable food," said Dianna Gee, a Walmart spokesperson in Bentonville, Ark. "If they feel they have purchased products impacted by this, we urge them bring the products or receipts to the store for a full refund."
Walmart has issued a food recall specifically for frozen hamburger patties with brand name Fatburger and Great Value frozen hamburger patties, which are produced by Jensen, a third-party supplier that is a consignee of Rancho.
Nestle has also issued a food recall for Hot Pocket Philly Steak and Cheese 12-count and two-count boxes, as well as  Philly Steak and Cheese croissant sandwiches.
Also under food recall are Kroger brand ground beef patties and Ground Beef Mini Sliders.
No illnesses have been associated with the Rancho food recall, but the list of consignees continues to expand.
Defective Products Can Lead to Health or Food Recalls
Every year, thousands of consumers sustain serious injuries from defective products, whether broken bones from a car accident, or a serious illness from a food-borne pathogen.Many of these injuries could be avoided if the manufacturers or distributors of these products took additional steps to ensure consumer safety. Defective products that commonly cause injuries include medical devices, pharmaceutical products, food recalls, and other defective products such as toys, cars and automotive parts.
There are a number of reasons that defective products make it to our shelves:
Defective manufacturing
Inadequate testing
Food-borne pathogens
Design defects
Marketing Misrepresentation
Consumers that have been harmed by defective products such as drugs, medical devices, improperly-sealed food, or other products, may be eligible to receive legal remedies.
The Strom Law Firm Protects Citizens Harmed by Delayed Product or Food Recalls
The attorneys at the Strom Law Firm aim to protect our clients' health and safety, and hold manufacturers to the highest possible standard of safety. Product recalls are especially important because defective drugs, medical devices, food, and toys can seriously injure or even kill consumers. If you or a loved one have experienced severe, life-limiting side effects from a defective food, product or drug, and believe that your pain stems from a product, drug, or food recall that came too late, you may be entitled to compensation. The Strom Law Firm can help. We offer free, confidential consultations to discuss the facts of your case, so contact us today. 803.252.4800