Oversized Tractor Trailer Causes Serious Train Accident in North Carolina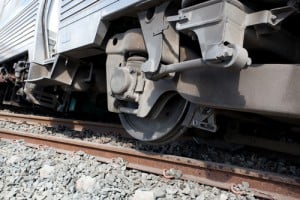 A tractor trailer three times normal semi-truck size got stuck at a railroad crossing in North Carolina, which caused a serious and destructive train and tractor trailer accident.
The train & tractor trailer accident which occurred on Monday, March 9th, injured 55 people near Halifax, North Carolina.
Although the massive tractor trailer was being escorted by state troopers and avoided many pit-falls of oversized trucks, the 255,000 lb semi-truck became stuck on the tracks at a railroad crossing, and reportedly spent eight minutes trying to negotiate a way off the tracks before the train approached and impacted the truck.
A normal semi-truck is 18 wheels and around 80,000 lbs. This vehicle had 13 axles and was a whopping 127 tons. The trucking company behind the vehicle had a special permit to allow them to use a truck that oversized, but truck drivers and their law enforcement escorts are required to "clear their routes and inform the railroad dispatchers what they're doing," said Steve Ditmeyer, a former Federal Railroad Administration official who teaches railway management at Michigan State University. Even if they lose contact, he said, there are toll-free numbers prominently displayed at railroad crossings to help prevent such disastrous train accidents.
"That dispatcher would have immediately put up a red signal for Amtrak and radioed Amtrak to stop," Ditmeyer said.
However, witness accounts at the scene of the accident say that flag men and other people involved in escorting the truck did not know procedure and did not think they could contact Amtrak to stop the train.
The tractor trailer's driver escaped without injury, but the train's conductor was among those injured at the scene. Because he had not been alerted ahead of time, the train conductor had about 25 seconds after coming around the curve to react to the truck's presence, and nothing could be done to prevent the train accident.
Tractor trailers trucking accidents cause on average 500,000 accidents each year. Congress recently suggested loosening regulations on tractor trailer companies and safety regulations for drivers, which could lead to more serious trucking accidents.
Due to the size of 18- wheelers, as well as negligent driving from poor training or overworked drivers, tractor trailer accidents are prevalent in South Carolina, Georgia, and the Southeast. There have been at least 5 similar train accidents at this particular Halifax crossing, according to the Federal Railroad Administration's database.
Injury Due to Tractor Trailer Accidents
If you or a loved one have been in a serious accident caused by negligence on the part of a tractor trailer driver or a semi-trucking company, you or your family could suffer physical disability, huge medical bills, lost wages, and decreased quality of life.
A combination of poor road conditions, exhaustion, negligence, oversized loads, and "right to work" state abuses of drivers can lead to tractor trailer accidents, which involve not only average drivers in average cars, but other semi-trucks or trains, and can be devastating to the surrounding area.
The Strom Law Firm Represents Victims of Tractor Trailer Accidents
If you or a loved one have been hurt because of a tractor trailer accident, you do not have to suffer financial and physical hardship alone. The South Carolina personal injury and wrongful death attorneys at the Strom Law Firm will investigate all the conditions of the accident and fight for the compensation you deserve. We offer free consultations to discuss the facts of your tractor trailer accident, so contact us today for help. 803.252.4800