South Carolina Social Security Lawyers: Herniated Discs and Social Security Benefits
What You Need to Know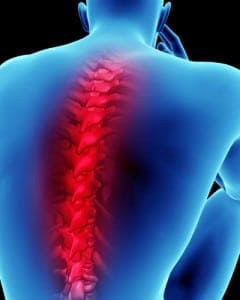 A herniated disc – also called "spinal disc herniation" – is a spinal injury when the central portion of the disc to bulge out from the outer disc ring. Nerves might also be compressed, but the injury can be very painful, even without nerve compression. Minor herniations can heal in weeks, but severe herniations may not heal on their own, and can require surgery.
If you have a slipped disc, your movement could be limited, which means you may not be able to work. You can apply for social security benefits to help you while you recover, but the Social Security Administration has some requirements before you qualify for disability.
If you have lower back pain, your doctor will give you a straight leg test to determine if you have a herniated disc, and how limited your movement might be. If you raise your leg and have pain in your back, then your straight leg test will be positive. If the pain occurs between 30 to 60 degrees, this means you have nerve root irritation and a possible herniated disc.
Applying for social security benefits can be complicated.  Don't become discouraged and abandon a claim because it is denied initially. Generally, most claims are denied at least twice before being approved by an Administrative Law Judge. There are a number of appeal processes available which can lead to a favorable decision on a disability claim.  Call one of our lawyers today for a free consultation. 803-252-4800
SOCIAL SECURITY BENEFITS
Back problems can bring on severe pain that can lead to chronic fatigue, emotional and mental problems, as well as paralysis. These symptoms prevent many people from working. Medications for pain have serious side effects that can cause difficulty in concentration. Surgeries are expensive, and do not always guarantee that the pain will go and stay away.
Next Steps After Being Denied Social Security Disability Benefits
There are four escalating steps to take after your disability claim is denied. These steps must be followed in order :
Get Ahead With Legal Help
Hiring a Social Security attorney will increase the likelihood that you will win your Social Security benefits claim. The Strom Law Firm, L.L.C., will discuss the circumstances of the case with you and give you an opinion of the merits of your claim. We personally review each claim at this stage of the process and will update your medical evidence for Disability Determination Services to ensure that your medical documentation reflects your disability.
You have a limited time period to appeal the denial of Social Security disability benefits or risk having to start the entire process over, so please contact our office (888-490-2847) as soon as possible.
Click here to read all the steps.
You need to apply for Social Security Disability benefits as soon as you and your doctors agree that you have an injury that will prevent you from working. Unfortunately, many people have to wait for a while to see what happens with their medical condition and treatment. During that time, men and women usually run into a great deal of financial trouble.
Talk With Us About Your Injury
The best way to learn about SSD and SSI after an accident is to talk with one of our Social Security Disability Attorneys at the Strom Law Firm. 803-252-4800 Call us for free and find out if you are eligible to receive benefits.